If you ever need reminding that your in laws aren't that bad or that your colleagues aren't so evil after all… or that your creepy neighbour isn't actually as creepy as you sometimes think, a sure fire way to put the people you know into perspective is by reading about real psychos, freaks, creeps and killers. So here, just for you, 10 of the sickest serial killers in history.
1. Richard Trenton Chase – "The Vampire of Sacramento."
Richard Trenton Chase was convicted of the murder of 6 people. His crimes took place over a month from December 1977. His victims included women, a man, a baby and a young boy. Chase took his nickname, 'The Vampire of Sacramento," as a result of the fact he is known to have bathed in the blood of one victim, drank the blood of another and eating the organs of the baby he murdered.
He was sentenced to death but died of an overdose while on death row.
Probably not someone you'd want to bump into on a dark night.
2. Gilbert Paul Jordan – "The Boozing Barber."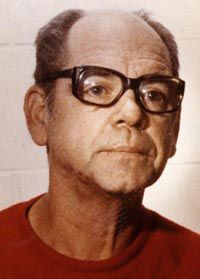 Gilbert Paul Jordan was known as the 'Boozing Barber,' because he was formerly a barber and his weapon was alcohol. He was connected to the deaths of between 8 and 10 women from the 60s to the late 80s.
His crimes typically started with him plying women with alcohol. When they passed out, he would force more alcohol down their throats until they died. In some cases, he was also convicted of raping the women as they died.
He was arrested in October 1987 and sentenced to what many considered a very lenient 15 years in prison. Despite this already quite light sentence, it was reduced on appeal to 9 years! He was released in 1994 and died in 2006.
Not the friendliest type of fellow, then, to say the least.
3. Harold Shipman – "Dr. Death."
Harold Shipman was one of the most prolific serial killers in history. 218 murders were positively linked to him but it's thought that the actual number of victims could be in excess of 400.  Most of his victims were elderly women.
His crimes were committed in West Yorkshire, UK. He would inject his patients with diamorphine (heroin).
It was not until after his conviction for 15 murders in January 2000 that the true extent of his crimes became clear, through the two year long Shipman Inquiry. He was sentenced to life in prison and killed himself in jail in 2004.
4. Ted Bundy
One of the USA's most notorious serial killers, Ted Bundy confessed to the murders of almost 30 women, though it is widely believed he could have killed up to 100.
His victims were women, many of whom he also sexually assaulted.
He was arrested in 1975, before escaping and being apprehended again in 1977. He was sentenced to death.
He continued to deny the murders for many years until close to the date of his execution. He confessed to 30 murders and was executed by electric chair in 1989.
5. Dorangel Vargas – "El Comegente."
Dorangel Vargas was a Venezuelan serial killer, dubbed by the media as the 'Hannibal Lecter of the Andes.'
A homeless man, Dorangel has confessed to the murder and cannibalism of 10 men, though it is thought there could be more victims. He has gone into a gruesome amount of detail about his 'preferences' in terms of human flesh, openly admitting:
"Sure I eat people. Anyone can eat human flesh, but you have to wash and garnish it well to avoid disease. I only eat the parts with muscles, particularly thighs and calves which are my favourite. I make a very tasty stew with the tongue and I use the eyes to make a nutritious and healthy soup." He also confessed to preferring men to women, avoiding eating old people because their flesh is "tough and contaminated," and to avoiding overweight men.
He was arrested in February 1999 and is in prison.
6. Peter Sutcliffe – "The Yorkshire Ripper."
Peter Sutcliffe from Bingley, UK, was convicted of the murders of 13 women between 1975 and 1980. He was given 20 life sentences for his crimes and on appeal in 2010, a judge told him he would never be released.
He remains in Broadmoor Prison to this day.
His murders all took place in the North West of England. Most of his victims were prostitutes. However, his youngest victim, Jayne MacDonald, was not. She was just 16 at the time of her murder.
Peter Sutcliffe, who also goes by his Mother's maiden name, Coonan, will never be released from prison. At the time of writing, he is 65.
7. John Wayne Gacy – "The Killer Clown."
John Wayne Gacy, who late became known as the 'Killer Clown,' sexually assaulted and murdered at least 33 young men and teenage boys.
His crimes took place in Illinois, USA between 1972 and 1978. He was arrested in December 1978 and sentenced to death. He was executed by lethal injection in 1994.
His youngest known victim was just 14 at the time of his death.
His 'killer clown' nickname was derived from Gacy's appearances at charity events dressed as his self-made character 'Pogo the Clown.'
Not a clown you'd particularly want to bump into though!
8. Alexander Pichushkin – "The Chessboard Killer."
Russian Alexander Pichushkin is known as the 'Chessboard Killer,' because he once stated that he would liked to have killed 64 people – one for each square on a chess board. He later rescinded this statement and confessed he would probably have gone on killing indefinitely.
He was convicted of the murders of 49 people and the attempted murders of 3 more. However, upon conviction and a life sentence, he asked a Russian court to add 11 more to this number.
All of his murders were committed in Russia between 1992 and 2006. Most of his victims were elderly homeless men, though he did also kill women and even children. Most of the victims were killed by a hammer blow to the back of the head and in many cases, Pichushkin also forced a vodka bottle into his victims' skulls to ensure they did not survive.
He has shown no remorse for his crimes and will remain in prison for the rest of his life.
9. Thierry Paulin – "The Beast of Montmartres."
Thierry Paulin became known as the 'Beast of Montmartres' because it was in this Parisian district that he murdered between 8 and 11 elderly women in the 1980s. It is thought that his murders were motivated by money – he robbed all his victims for the little money they had.
His victims were elderly women who lived alone and many were found with their hands and legs bound.
He was convicted of his crimes and imprisoned in 1989. Soon after, though, he died of AIDS.
10. Myra Hindley – Moors Murderer
Myra Hindley, accompanied by Ian Brady, murdered 5 children in the UK in the 1960s. The bodies of the children were buried on Saddleworth Moor, outside Oldham in the North West of England.
Despite being convicted of the murders and imprisoned for life in the mid 60s, both Hindley and Brady maintained their innocence until confessing to the murders in 1985.
Myra Hindley repeatedly appealed to be released but was told she would remain in prison for life. She died in 2002 of heart failure.
At least 4 of Hindley's child victims had been sexually abused. One body, that of Keith Bennett, remains undiscovered despite repeated searches of the Saddleworth Moors area in which both Hindley and Brady claim he is buried.
Myra Hindley's role in the Moors Murders shocked the world – largely due to her gender. She remains one of the most despised women in history.